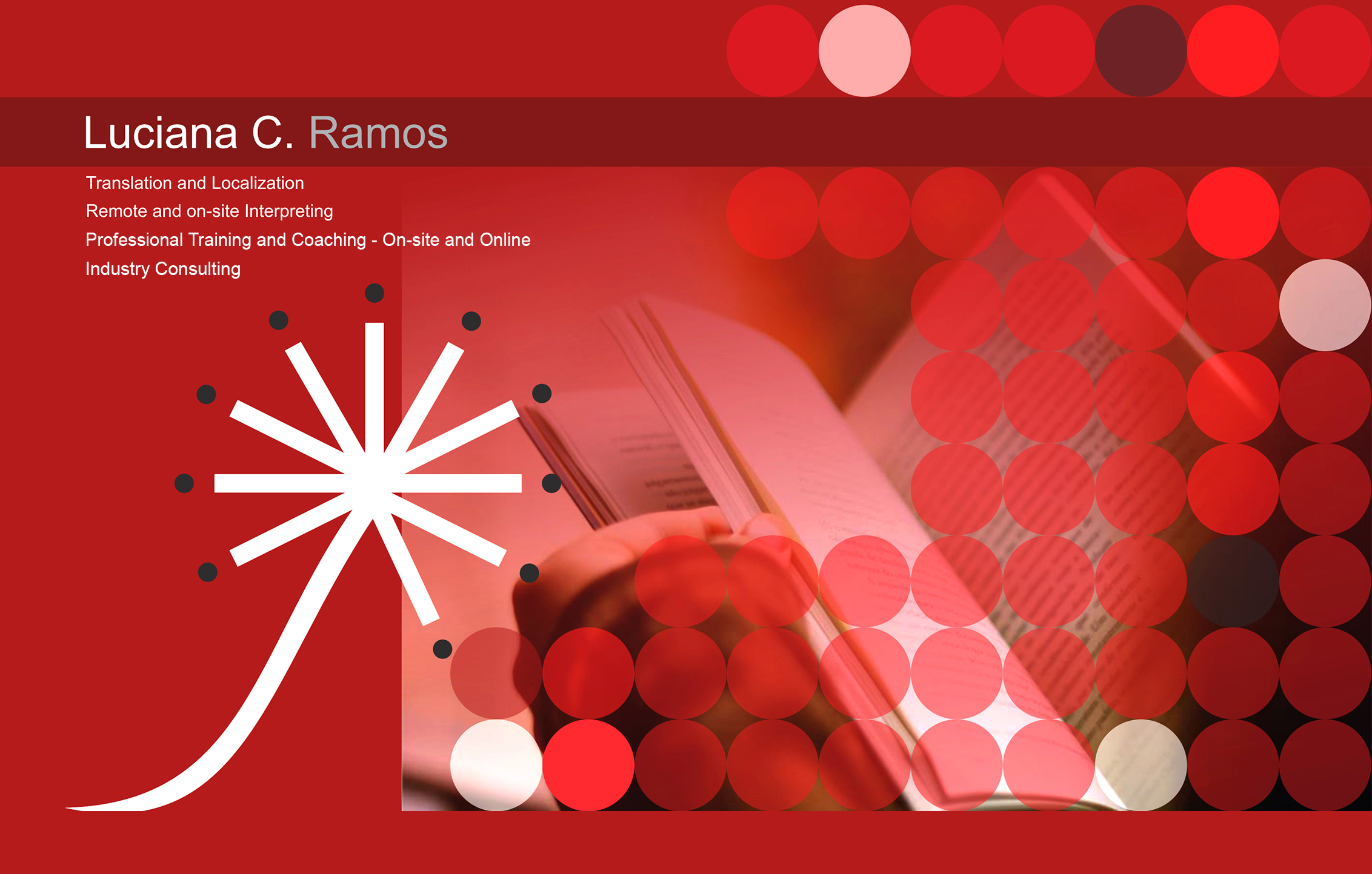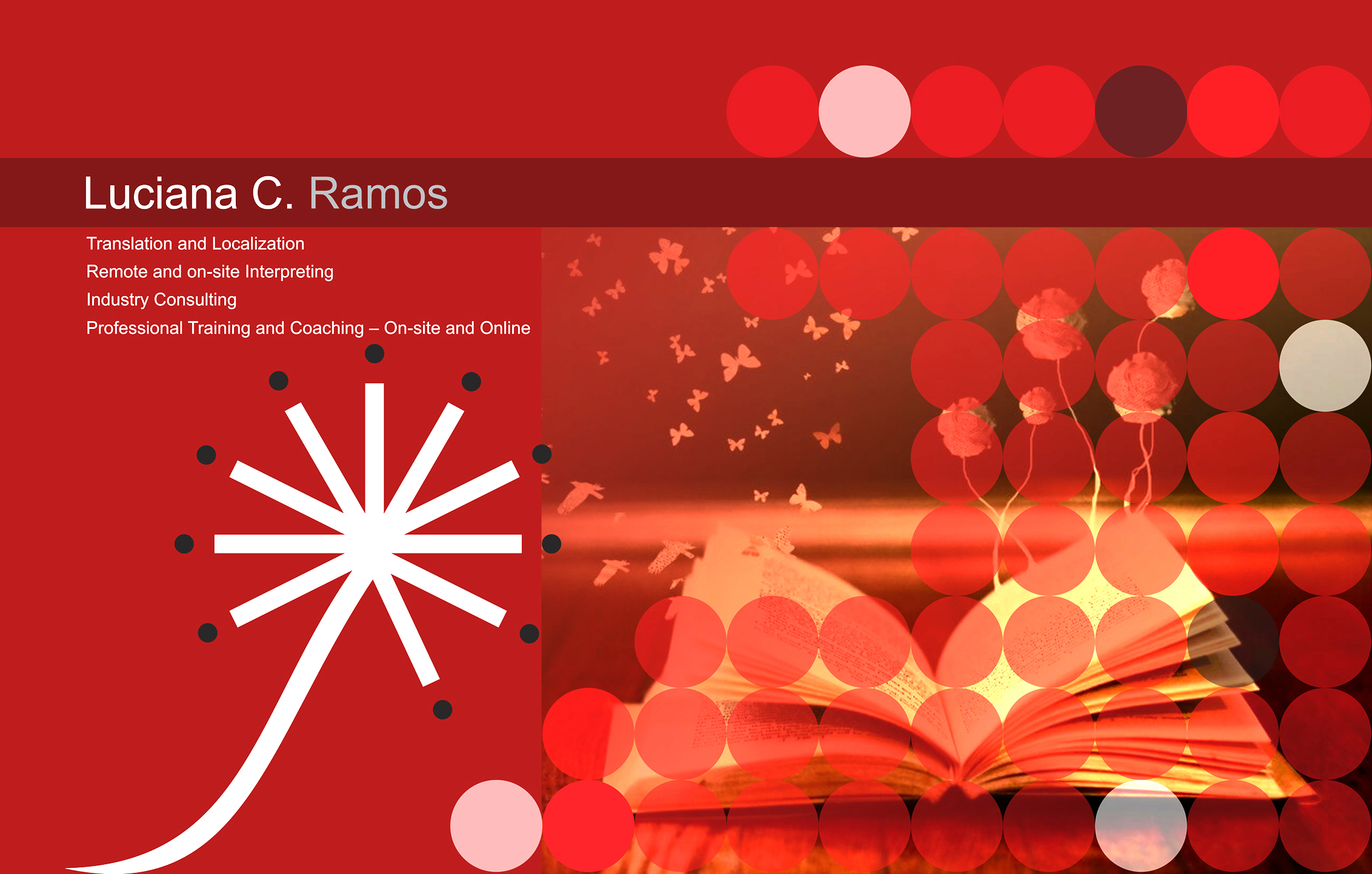 Leading-edge technologies, an in-depth knowledge of the industry and a sound linguistic background make an efficient combination for Luciana Ramos – Translation and Training to offer reliable and flexible options for Software Localization, Specialized Translation, Machine Translation Post-Editing, Consulting, and Professional Training and Coaching.
        Luciana Ramos – Translation and Training is a language service provider owned by a professional translator and interpreter with a long-standing presence in the Language and Technology industry, which, based on her sound linguistic background, broad experience in every link of the translation and localization supply chain (both as a linguist and a businesswoman), her specialist knowledge on language technologies and her research capabilities, offers a comprehensive array of professional services: scientific translation, software localization, telephone/on-site interpreting, professional training and coaching (for translators, vendor managers and project managers), as well as consulting on business organization and processes, Quality Assurance, and investments on technology.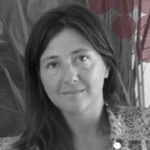 Professional Accreditations and Background
Luciana Ramos runs a co-working space as a launching platform for language and IT services to the world, where a dynamic team serves language needs for global clients combining both language and technology synergies.
Luciana Ramos holds a Master Degree on Biomedical Translation from the Universitat Jaume I, Castellon, Spain, and a Technical-scientific and Literary Translator Degree for English into Spanish, and Consecutive and Simultaneous Interpreter Degree, both issued by Instituto de Enseñanza Superior "Olga Cossettini" Rosario, Argentina; 1992-1996. She has also been certified by the American Translators Association for English into Spanish Translations. As a member of Colegio de Traductores de la Pcia. de Santa Fe (2.º circunscrip.), Luciana Ramos does business under Professional License # 218/02. As a source of continuing education, market trends and business developments, Luciana is a proud member of:
TREMEDICA – International Association of Translators and Editors of Medicine and Related Sciences
GALA – Globalization and Localization Association
ATA – American Translators Association
ASETRAD

"What is in SDLX 2007 that is not in other applications?", Panace@, Special Issue, 2009;
http://bscw.rediris.es/pub/bscw.cgi/d1619897/Panace@_29_junio2009.pdf

"TagEditor – A practical approach to explore its features and make the most of them" Panace@,
Special Issue, 2009
http://bscw.rediris.es/pub/bscw.cgi/d1619897/Panace@_29_junio2009.pdf

"The pillars of professional ethics"; Multilingual; December 2010

"New spelling and the role of Spanish translators"; Multilingual; June 2011

"Terminology-based approach to master in medical translation"; Multilingual; August 2011

"Statistics as a Medical Translation Specialization"; Multilingual; September 2012

"El consentimiento informado" (Informed Consent); Panace@, Vol. XIII, issue 36. Second Semester, 2012.
Translation and Localization
         With more than 20 years servicing the language industry, Luciana Ramos Translation and Training has a sound background shaped not only by formal knowledge-acquisition through academic courses and certificates, global conferences and seminars, and intensive specialization workshops, but also by direct and real hands-on experience in the translation and localization arena, leading teams, creating terminology databases, planning production, and actually translating and localizing – offering fully skilled services in every link of the translation cycle:
         Glossary creation
         Style Guide development
         Translation, Editing and Proofing
         Desktop Publishing
         Machine Translation Post-Editing
         Quality Assurance
Main areas of expertise
         Business and Insurance
         Computing and Information Technology
         Investment and Banking
         Marketing
         Life Sciences and Healthcare
         Pharmaceuticals
         Tourism and Travel
Remote and on-site Interpreting
        Interpreting services are customized based on each particular scenario, budget and location sharing an unquestioned starting point – deep research and study of the subject matter and materials exchanging with lecturers/stakeholders. A case by case analysis will guide us on the decision whether interpreting services will be delivered over-the- phone or on-line, consecutively or simultaneously, in-company or at the appropriate facilities. Visit our Contact page and arrange a meeting (via Skype) to discuss how services can be rendered according to your context and budget.
Professional Training and Coaching – On-site and Online
   It is a fact: Continuing education is vital for gaining and retaining client's reliability. Industry know-how, process development, market trends and professional specialization are valuable assets that cannot just be grabbed from a shelf. The Catalogue of Webinars we offer is available upon request and it includes different courses and presentations developed based on vast research efforts and proven experiences. Presentations are agile and conveniently timed, which make them a simple investment with immediate assertive results. Ask for our Catalogue, which is updated regularly with titles both for general interest and customized content, and visit our Contact page to arrange a meeting (via Skype) and discuss the program that best suits your needs.
        Testimonials  http://www.proz.com/translator- training/trainers/629/feedback
       "Good trainer with a great knowledge of the subject. Her examples helped a lot the understanding of the concepts." Miguel Armentia, regarding Informed consents: práctica de traducción y corrección.
       "This was the best video I've seen so far, highly informative, with hints that you hardly find anywhere else. A good deal of examples and explanations. I really appreciated it. It was really well done!" Elizabeth B. regarding Iniciación a la traducción médica.
       "Luciana impartió el webinar con mucha maestría. Su estilo de presentación inspira y anima. Muy recomendable y espero que en un futuro próximo siga compartiendo su experiencia con quienes somos sus colegas." Manuel Ignacio Serrano, regarding Traducción médica: abordaje terminológico para la iniciación del traductor especializado.
       "The trainer explained the course with many details and examples, which it' very helpful for those who haven't practised the medical translation." Christina Kyprianou regarding Medical Translation – Healthcare and Health Insurance.
Industry Consulting
        Tools, newly-launched platforms, processes, human resources, practical approaches — all pose too many battle fronts to prepare for within tight deadlines. Assertive decisions related to company organization and strategies to meet clients' demands may have a great deal to do with intuition, but the best scenario for intuition to thrive is knowledge. Your need is the core of our study subject and our expertise is at your disposal. Visit our Contact page and arrange a meeting (via Skype) to discuss your particular situation and boost your potential.
        Technology Investment – Which is the best software to invest in for you or your Company? We will guide you through the investment process, providing you with the pros and cons of different market products available to cater to your specific needs.
        Development of Business Units – Is your Company structure suitable for your business offer? Are your BUs cost-efficient? We will help you develop the appropriate team and procedures to meet your clients' requests or to face your business challenges.
         Designing the Best Translation Approach – Different content types and scopes require different approaches for successful quoting and effective communicative outcomes. We will analyze the actual communicative needs on a case by case basis to design the most cost- effective approach to your translation/localization project.
         Recruiting and Assessing your Vendors – Vendor selection is undoubtedly a time- consuming task, and very frequently investment on vendor selection is underestimated and undermined by the urge for immediate outputs. Rely on us your vendor selection needs and be teamed-up to win!
Catalogue of webinars
Become a proficient biomedical translator through the life cycle of a new drug – Part I and II
Medical emergencies – translator on call
Medical translation – terminological approach for translators'; specialization
From the bottom of your heart – concepts and terminology relating to the heart and circulatory and respiratory systems
Difficulties found when translating texts for the U.S. healthcare system
Medical Translation – Multiple translation content and formats
Medical Translation – Healthcare and Health insurance
The social aspect of healthcare – Language difficulties related to disease prevention and education
Clinical Protocols – Guided practice for medical translation from English into Spanish,
parts I and II
Informed consents – translation and revision practice
Medical translation – terminology-based approach to become a specialized translator
Can you learn to become a reviewer? Guidelines and practical steps to perform
the job of a reviewer
Reinforce your Spanish skills
Scope of the translator's role – purposes and expectations, tools, procedures and technologies for each step
Post-Editing Free Machine Translation
Today's translation environment – Tools and procedures to take advantage of SDL TradosStudio 2011: Streamlining and Optimizing the tool's features.
Keeping Track of vendors' performance
Short-listing, Training and Retaining Linguistic Resources in the Translation Arena – Investment or Expenditure